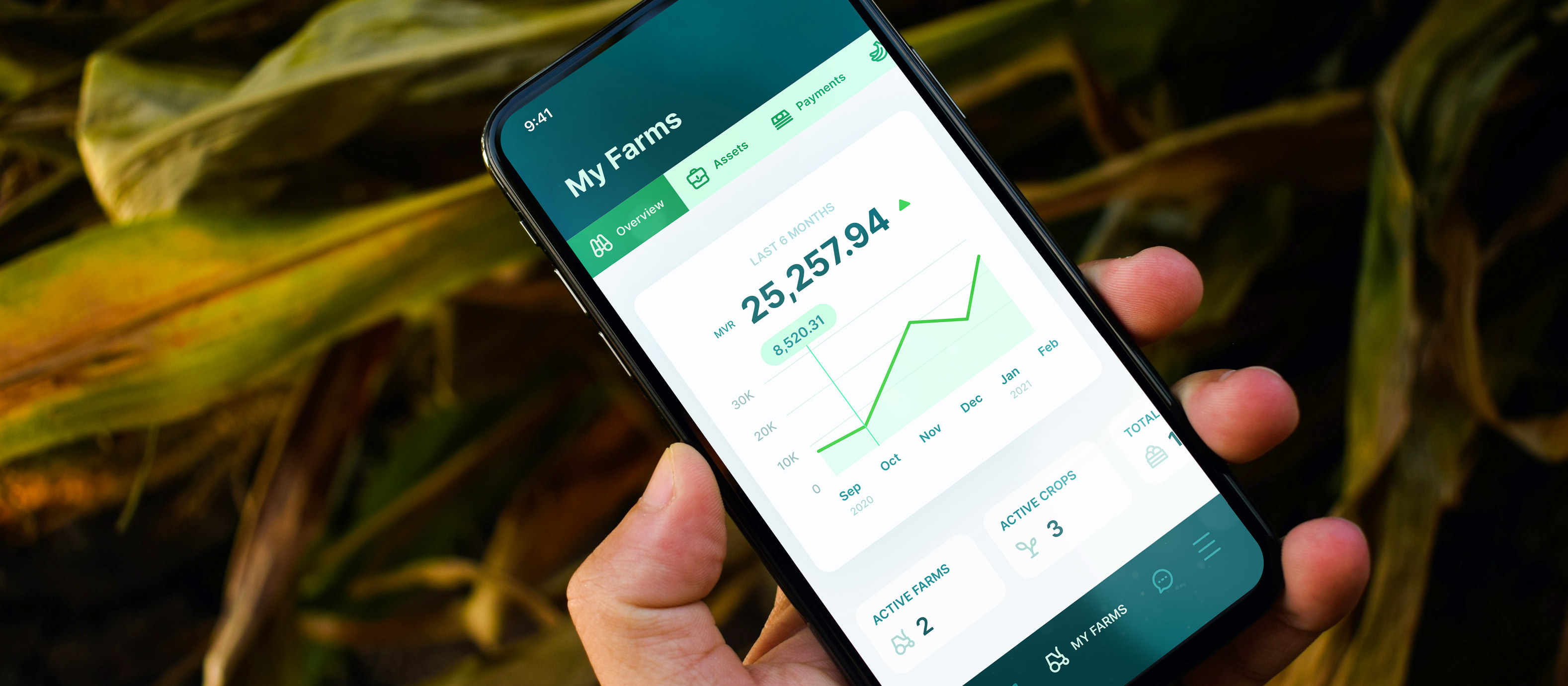 AgroNat Application Development Project
The AgroNat App fits into Agro National Corporation's master plan towards bridging the gap between the farmers and their customers by offering a complete management solution across the entire supply chain from sales to warehousing and shipping; all seamlessly enabled through the application.
The application is designed and developed by longstory, a creative and digital studio based in the Maldives. The project is generously funded by UNDP.
The Context
The application enables farmers to optimise, manage and track their operations, and at the same time get expert feedback and guidance from Agronomists based at AgroNat. Additionally, it also facilitates expert trainers to conduct dedicated training sessions for the farmers to help improve and expand their production and operation.
With the farmer produce being received, categorized and managed through the application, the sales team can instantly attend to customer requests by looking at real-time data from the centralized inventory system. This enables a hassle-free buying experience for the customers allowing them to place orders, track them and get them delivered to any location of their choosing. The logistics team can manage and track those orders seamlessly to their destination.
The Process
With nearly two months of collaborative work between the consultant and the AgroNat team, a detailed requirements document was produced. This document captured all the essential information for building the application and it ensured that both the AgroNat team and the consultant were in alignment with what is expected of this project.
Considering the scale of the project, the web application was broken down into different modules based on role and functionality for easier management. That resulted in 13 extensive modules as listed below,
1. Administrator Module
2. Agronomist Module
3. Sales Module
4. Finance Module
5. Executive Module
6. Operations Module
7. Coordinator Module
8. Logistics Module
9. Farmer Module
10. Customer Module
11. Trainer Module
12. Supplier Module
13. Regional Module
Out of these 13 modules, 4 modules (Farmer, Coordinator, Logistics & Executive) are also delivered as mobile applications for both iOS and Android platforms. It is also to be noted that the Farmer mobile app will come in both Dhivehi and English language.
The Deliverables
The following will be delivered by the consultant:
Corporate website design and development in English and Dhivehi with a custom-built Content Management System (CMS)
AgroNat web application design and development (13 modules)<br>
Design and development of mobile applications for both iOS and Android (4 modules)<br>
With the website completed and launched, and the remaining deliverables edging closer to the finish line, we at AgroNat are hopeful that this will transform our agriculture industry to the modern era.