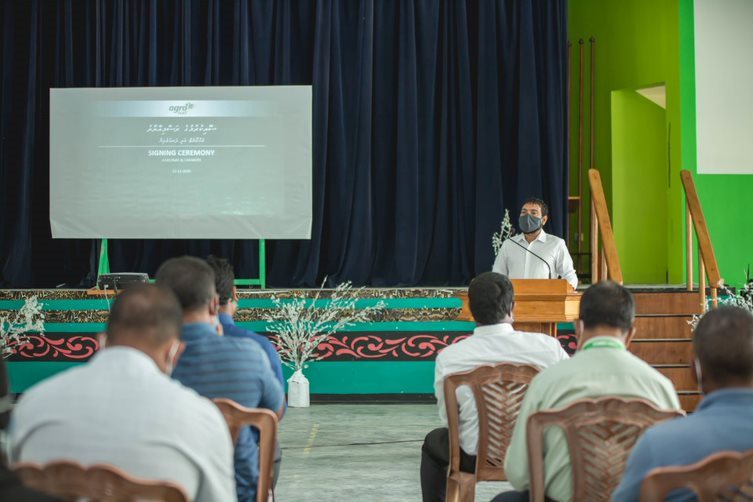 Results to be achieved by AgroNat:
Output 1: Strengthen productive capacity and entrepreneurship in agriculture.
1.1 Provide a support package for at least 250 small-holder farmers in Laamu region. This support package includes starter kits to small-scale producers to assist them in starting production and facilitating them to enter into contract farming with the government State-owned Enterprise (SoE), AgroNat. Laamu Atoll has been selected as it has agricultural land, farmers and exists as a single landmass. As all enabling infrastructure exists, this activity will serve as a pilot phase to test the contract farming process for the SoE and to stimulate immediate production and income for farmers. 17 crops will be farmed.
1.2. Support digital entrepreneurs to promote e-agriculture and digital tools for agri-entrepreneurs. This activity includes provision of funding to develop mobile applications.
Output 2: Strengthen the value chain integration and support services to farmers to enhance food security. This output intends to provide assistance to strengthen institutional capacity and support services of the newly established state-owned enterprise, AgroNat.
2.1. Establish an integrated online planning system for food security. The system would also facilitate collection and updating of data on producers, pricing, products, plots, sales, imports, etc. A farming application will be developed which will facilitate farmers in getting up to date information and connecting with AgroNat.
2.2. Provide solar-powered post-harvest infrastructure (cold storage and chilling facilities) to enhance food security. This is particularly critical infrastructure given the geographic set-up of the country and the absence of efficient sea transport networks.